Front Recovery Points BBG-RP150 for
Lexus GX470 (2003 – 2009 ):

If you have KDSS, you need to drill 1 hole on the passenger side. Please confirm before purchasing

Lexus GX460 2010+

Toyota 4th / 5th Gen 4Runner

Toyota FJ Cruiser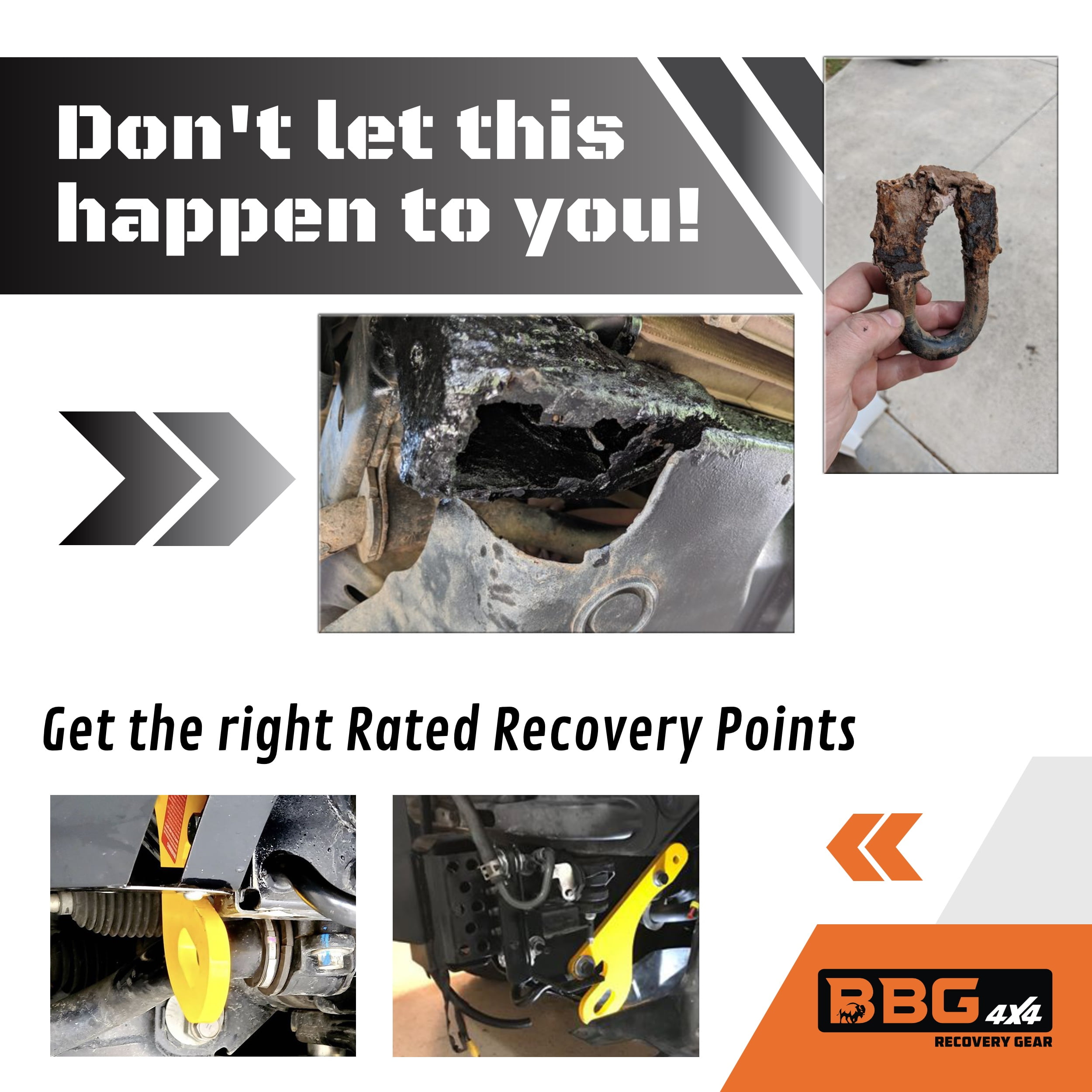 Don't let this happen to you!
Get the right Front Recovery Points
These Recovery Points have been designed as matched pairs, supplied in LH/RH for vehicle specific fitment. Your purchase will include high tensile bolts, and any additional, vehicle specific mounting hardware required to ensure secure fitment to vehicles. Correct fitment of these components is critical for yours & other personal safety.
Each side of this recovery point are supplied with 3 x M12x1.25x50L (to the outside of the chassis rail – if the bolt holes to the chassis or bull bar are available) Hi-tensile bolts supplied, with relevant flat & split washer. At a minimum, this recovery point requires two bolts each side.
Installation requires 3 nuts on wires (supplied) to be installed into the chassis rail for each tow point. This will require the bumper/bull bar to be removed on some models, Check your chassis before fitment.
Ensure 2 bolts per tow point are fitted and torqued to recommended settings to ensure tow points meet tested standards.
The supply of the 3rd bolt is for FJ Cruiser only. It is recommended that a 3rd bolt be fitted to each tow point if the bolt hole to the chassis or bull bar is available.
Features
Made from 12mm SS41 carbon steel plate
Direct bolt onto your chassis using high tensile bolts – no cutting or welding required
Powder-coated yellow for high visibility
Matched pair – specific to each side
Allow for use of 4.7T bow shackles and a bridle strap
Rated to a Working Weight Limit (WWL) of 3250 Kg (7165.024 lbs) per tow point
Kit contains:
2 x Tow Points
All hardware for fitment
Compatibility:
Fit with ARB or Ironman4x4 bullbar bumper. (Modification might be needed, please confirm before purchasing)
Fit perfect with KDSS
!! FOR YOUR SAFETY !!
Do not use with soft shackles
Only front loading